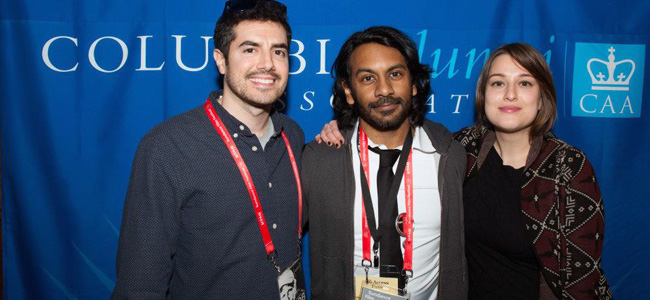 In case you missed it, Graham Moore '03CC delivered an inspiring speech when he accepted his Oscar for Best Adapted Screenplay for The Imitation Game on Sunday. The thousands of Columbians working in the film industry, like Graham, have inspired us to create a new series program to engage alumni.
Columbians in Film, a worldwide program that extends across the University and the CAA ecosystem, launched at the 2015 Sundance Film Festival, where more than 300 alumni and industry professionals gathered on the CAA's Blue Carpet. Trustee Ann Kaplan and Peter Farrelly '86SOA — one half of the screenwriting-directing Farrelly brothers team — joined the party. We've used content from this event across our social media channels (photos here) and on the CAA Arts Access website to engage other alumni and highlight alumni and faculty filmmakers.
The next program in the Columbians in Film series will be at the Tribeca Film Festival, where we plan to offer special access to an alumni film screening and a post-screening talk back. Columbians in Film will continue to grow as we build partnerships with regional club volunteers and shared interest groups, alumni with significant involvement in all aspects of the film industry and film festivals, and the Global Centers. In time, we plan to bring Columbians in Film events to Toronto, Hong Kong, Berlin, Cannes, Istanbul, Los Angeles, Barnard's Athena Film Festival, and the New York Film Festival.